About Joe
Joseph Barbuto MBA, CIREC
NYS Licensed Real Estate Salesperson
Commercial & Investment Real Estate Certified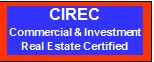 I am a native Long Islander originally from Farmingdale and currently living on the south shore for the past 20 years. I originally obtained my real estate license in the 1980s then again in 2001. However, I did not find my passion until I started leasing and selling commercial real estate.
Commercial real estate was a very natural fit for me. I suspect that is because I have bought and sold commercial real estate in the past. In addition, I had also negotiated commercial leases for my own businesses.
My background as a marketing professional with over twenty years of experience will help you with the process of marketing your property. I also have expertise in online marketing techniques. As an experienced negotiator, I pride myself on my ability to negotiate a win / win deal to get you the best price and terms for your transaction. In the past, when I was a college professor, I taught these techniques to my students. As a businessman I applied them. In addition to a strong background in sales I also have a strong background in project management. These skills help keep the deals together and moving forward.
Enough about me! Let's talk about your needs. Give me a call so we can set up an appointment.
Mission Statement
Our mission is to provide you with the attention that you deserve and a professional experience that exceeds your expectations of the way a real estate transaction should go, never forgetting that you are the reason we are here.
Affiliations
Long Island Commercial Network
Long Island Board of Realtors
National Association of Realtors
Past Director Seaford Chamber of Commerce
Past Director Seaford Historical Society
Member Seaford Chamber of Commerce
Education
CIREC -Commercial & Investment Real Estate Certified
Masters in Business Administration - New York Institute of Technology
Bachelor of Science - Computer Science - Empire State College
Associates of Science - Business Management and Economics - Empire State College
Notary Public
Hobbies
I enjoy tennis, photography, hiking and RVing and in the past served as a volunteer on the New Jersey Search and Rescue Team. I am SAR Tech III certified by the National Association of Search and Rescue (NASAR.org). I am also certified by the New York State Department of Environmental Conservation (DEC) in basic and advanced wilderness Search and Rescue.